New MMORPG MU Legend Begins Recruitment Of Closed Beta Test Participants
mulegendzen
Date: Mar/19/18 13:25:30
Views: 1886
Webzen Japan began recruiting closed beta test participants for the new MMORPG 'MU LEGEND' scheduled to be released in the first half of 2018 on the official broadcasting on March 15.
"MU LEGEND" was produced as a successor to the MMORPG "MU Online" that has been serving for 13 years for a long time, and the fundamental elements such as simple UI and easy operation, depiction of quarter view, It is an orthodox hack & slash new work MMORPG which has been polished further to enjoyment such as a growth system which was inherited from a wide variety as well as a newly added dungeon gimmick.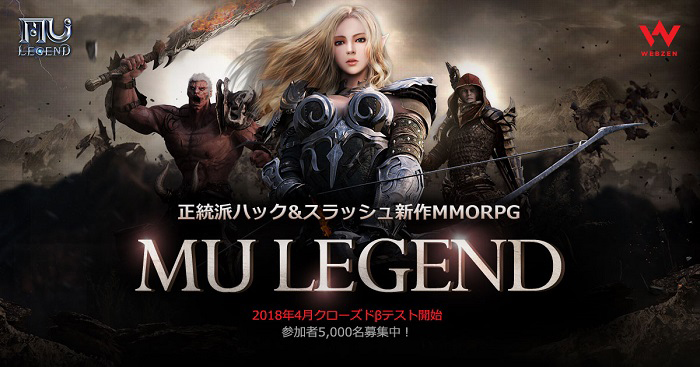 Application for CBT of "MU LEGEND" is possible by e-mail address, Twitter account, Facebook account, Google account. Also, on the CBT recruitment page we are also holding a Twitter gift campaign hitting 1,000 yen of electronic money by muttering CBT application & participant benefits and targeted tweets that gifts will be luxurious depending on the number of people who applied for it Please join us.
On the official "MU LEGEND" official live broadcast on Thursday, March 15, we delivered "MU LEGEND" game introduction including actual game play. Archive picture of the official live broadcast is released on YouTube so if you can not watch it in real time, please check it.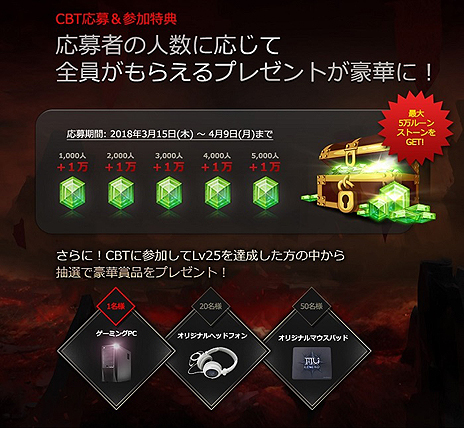 CBT Wanted Overview
The closed beta test (CBT) will be conducted for the purpose of final confirmation and improvement of game stability and functional aspects before official service starts. We are looking for participants who can cooperate with CBT at "MU LEGEND" this time.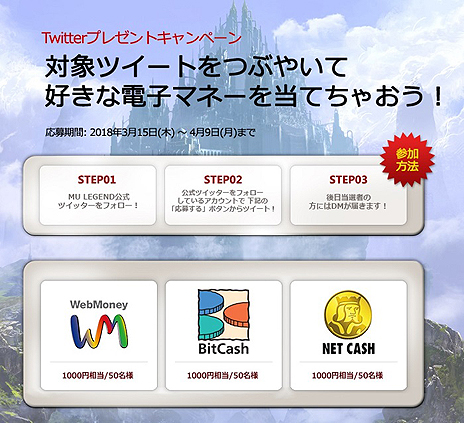 CBT entry & participation benefits
As a CBT applicant & participant privilege, every time the number of people who applied has increased, up to 50,000 Rune Stones (currency) necessary for strengthening items in the game at the time of official service will be gifted I will.
In addition, we participate in CBT and present gaming PC and original goods by lottery from those who achieved character Lv 25.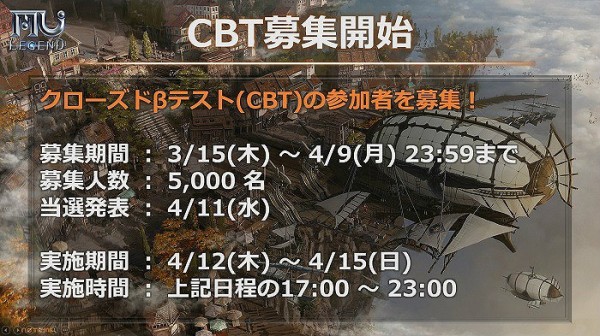 Twitter gift campaign
During the period, we will offer electronic money equivalent to 1,000 yen to 150 people (50 people × 3 kinds) from lottery among those who are tweeted target tweets set for various electronic money.
Please contact us after doing MU LEGEND official Twitter as winning contact will be done on Twitter DM.
Publish the archive footage of the official live broadcast
"MU LEGEND" As the official live broadcasting for the first time, Mr. Mirukimi appeared in a whispalar cosplay, Mr. Ayaka Fukuhara who was responsible for whispalar CV got the first game game to be experienced in actual game play It was.
At the end of the game play corner it is the content of "MU LEGEND" that the performers challenge Brad Castle by all the performers.
As a serious announcement, we also announced the launch of the CBT recruitment within the delivery. As you can participate in viewers gifts until 3/18 (Sunday) until 23:59, please watch it.