Webzen Will Add Its First New Class Emphasizer To MU Legend
mulegendzen
Date: Aug/02/17 14:34:18
Views: 1349
Webzen (CEO Kim Tae Young) announced yesterday that it will add its first new class, "Emphasizer" to its MU LEGEND, a PC online game developed and serviced by the company.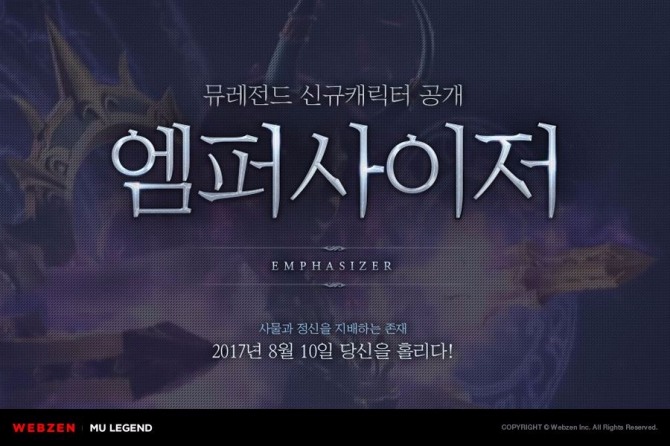 Webzen plans to apply the fifth class 'Emphasizer' through the update on August 10th. Emphasizer, a female character that has been featured several times in the form of 'Tejing' from before the service, mainly uses skills and weapons specialized in 'crowd control' to steer or weaken the enemy.
Emphasizer is a character who has long been able to control things and minds through harsh training. It acts as a 'balanced dealership' that can inflict great damage on many enemies based on sophisticated attacks.
Webzen will also release a special interview with Jesper Kyd, an interview with Sungwoo Yoon, an actor who has played the voices of Emphasizer with the update, and a game musician who composed the main theme music of MU Legend.
Webzen will be in the pre-registration event for the Emphasizer update from 1st to 9th in advance of the update of Emphasizer. Users who have participated in pre-registration on the event page of MU Legend can receive items (200-item Red Jen, Lovely Little Amp Pet) that can be used in the game after the update.
In addition to this, Webzen also prepared a sweepstakes event to present 'Cultural Gift Voucher 10,000 won' through a lottery among the members who shared 'Emperisizer Teaser Video' on their reservation page.