MU Legend Updated Mysterious Continent Noria
mulegendzen
Date: Feb/02/18 00:10:14
Views: 2431
Webzen (CEO Kim Tae-young) released MU Legend, a PC MMORPG, and is preparing to update the largest 'Noria'.
This update will be applied through the 'MU Legend' checkup on Feb. 1, and it will show various contents such as 'Noria', new myths, epic dungeons, quests, 'Talismans System' and 'Awakening Artifacts'. The character's maximum level also expands from 65 levels to 70 levels.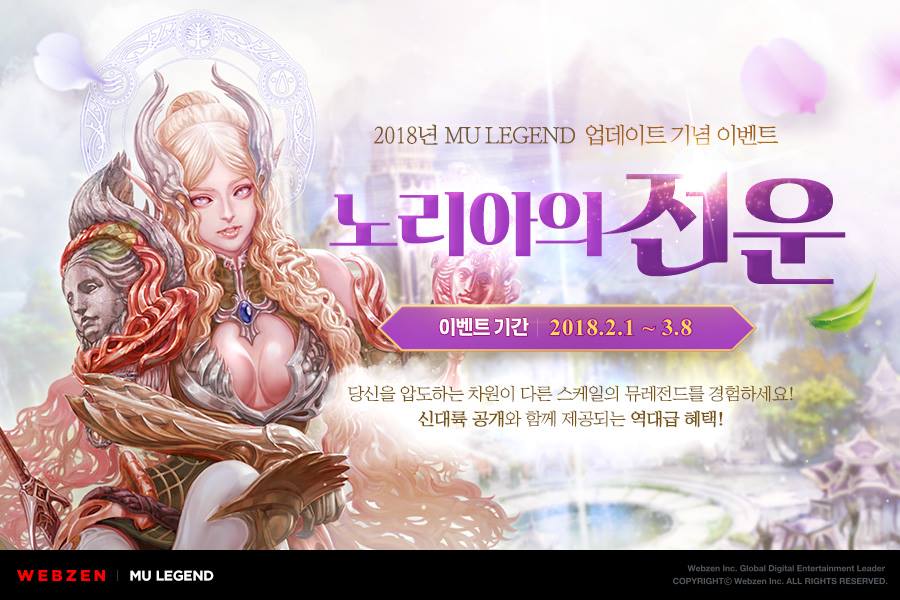 In Noria continent you can get a lot of experience to grow your character to the highest level, and you can acquire 70 level awakened artifact and set armor through Epic dungeons and quests.
Talismans System can create more than 90 kinds of Talisman through about 250 Talisman quests with the contents of the book that will be opened when the character reaches 70 level. The more you have more and more of the Talisman, the more you can get the Talisman Point (TP) that can be used in the Talisman Dungeon such as 'Non-Fair Defense'.
In addition, Webzen expanded 'Endless Tower' to 150 floors and strengthened its rewards, adding 'Awakening Artifacts', which has a more effective effect than general artifacts, 6 new Soul Stones, 2 new sets and 4 tier wings .
To celebrate the update, Webzen will host various events including 'Noria Conquest Mission' and 'Talisman Ranking Challenge' until March 8th. Depending on the accomplishments and rankings achieved, you can receive basic items such as 'Resurrection of Life' and 'Red Zen', as well as rare items such as 'Fixed Talisman Core Box'.
In addition, Webzen will provide 'Growth Support Gift Box' consisting of 'Rare Rating Equipment' and 'Potion' to new members who created the character after the update, 'Xinhye Rating Equipment', and a blessing of welcome (experience value and item acquisition 20% increase).
Even if you connect to the game during the event, you will receive a "Runes of Magic" and a "Red Zen" as your attendance check reward, and receive a buff for fast character growth every day in hot time.