NBA 2K23: How to Get Gym Rat and 4 Extra Badges?
mulegendzen
Date: Oct/13/22 10:41:47
Views: 647
Badge loadouts are important in MyCareer of NBA 2K23; using them will allow your player to excel in certain areas immediately, making them game changers on the court. This guide will show you how to get Gym Rat and 4 Extra Badges in NBA 2K23.

How to Unlock Gym Rat Badge in NBA 2K23?

Here, we'll guide you on how you can easily unlock the Gym Rat Badge on your PS4, PS5, Xbox One, and Xbox series X/S:

1. Unlock Badge on PS4 & Xbox One Devices

To unlock the Badge on PS4 & Xbox One devices, here's what you'll need to do:

1). Head to the Gatorade Facility and look for an NPC named Timmy.
2). After meeting Timmy, you'll get the Addicted to Sweat quest.
3). So complete the given quest, and the Gym Rat Badge will be yours.
4). Players who can't talk to Timmy and receive the Addicted to Sweat challenge will need to unlock the Mamba Mentality badge first.

2. Unlock Badge on PS5 & Xbox Series X/S Devices

Here are the steps to unlock Gym Rat Badge in NBA 2K23 on PS5 and Xbox Series X/S Devices:

1). Complete the NBA Summer League game to receive your intro challenges.
2). One of these challenges will unlock the Gym Rat badge.
3). To start the Gym Rat Badge awarding quest, go to the gym rep NPC at the Gatorade Facility and talk to them.
4). Then, you can begin progression towards the Gym Rat badge.
5). At the Gatorade Training Facility, you can compete in several "training exercises," which are just a bunch of mini-games that will test how quickly you can press buttons shown on the screen. The exercises are split into five sections:
• Acceleration
• Speed
• Stamina
• Strength
• Vertical
6). Each exercise has a star system. The goal is to hit at least three stars 25 times.
7). If you complete 25 of these exercises and get at least three stars, you will receive the Gym Rat badge.

3. What does Gym Rat Badge do?

This badge improves the capabilities of your characters. Here are all the stats that this badge boosts in NBA 2K23:

• Speed gets 4x points
• Acceleration gets 4x points
• Strength gets 4x points
• Vertical gets 4x points
• Stamina gets 4x points

How to Get 4 Extra Badges in NBA 2K23?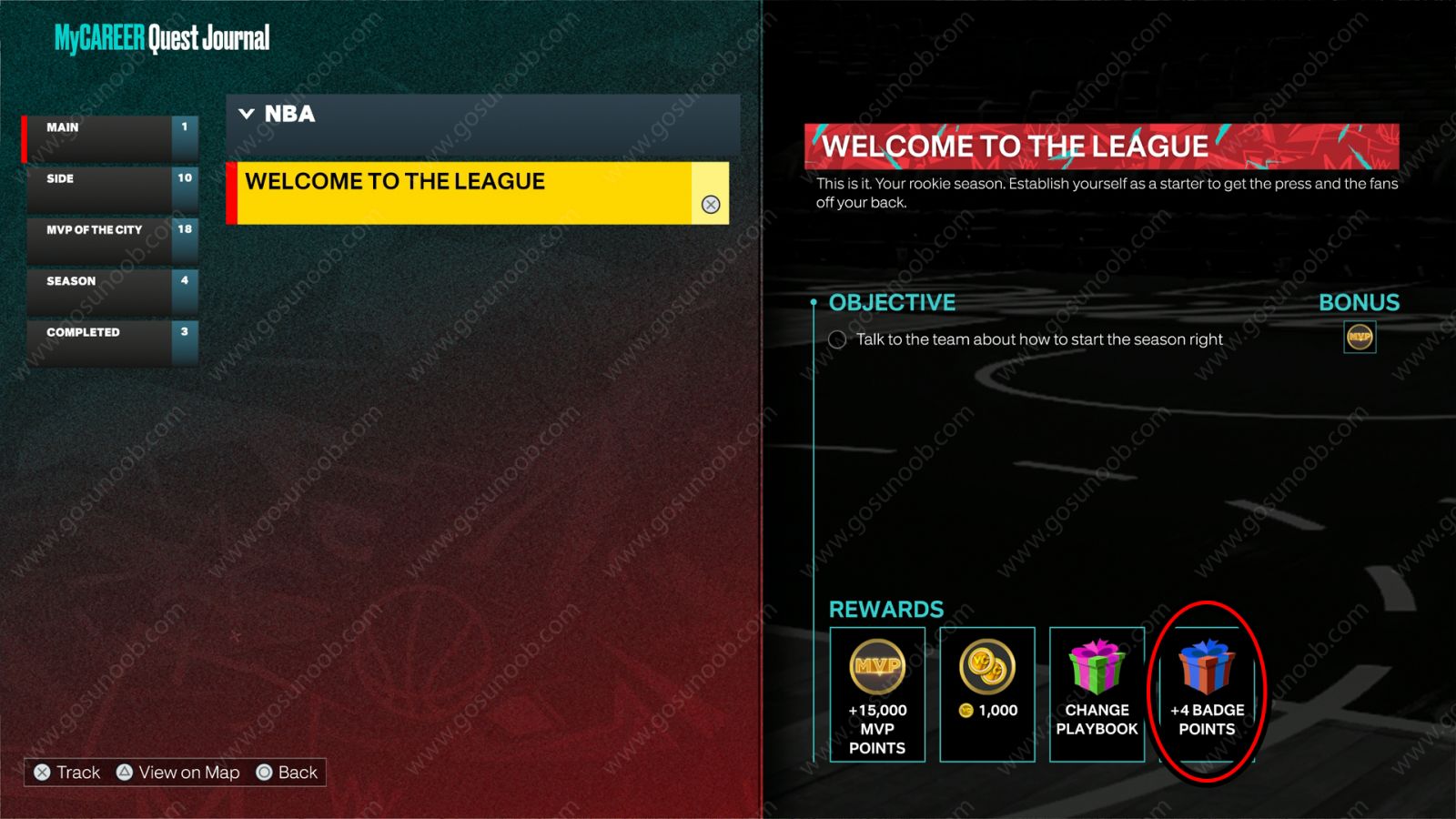 Here's how to get 4 Extra Badges in NBA 2K23:

1). You'll need to complete the Summer League Championship quest.
2). Doing so will net you +10.000 MVP Points, and more importantly, it will unlock the next quest – Welcome to the League.
3). While in the MyCareer, head to the quests menu and locate the Welcome to the League quest in the main one. This is the quest you need to complete to earn 4 extra badges.
4). To complete the quest, you must play 5 NBA games and get a combined total of 60 points, assists, blocks, rebounds, and steals in the NBA.
5). After that, you will have to meet with reporter John Luck.
6). After completing the objectives above, you have to keep playing the game until your head coach promotes you to a starter role.
7). Once you have become a starter in MyCareer, the game will give you the option to add four extra badges to your build.

That's everything covered on getting Gym Rat and 4 Extra Badges in NBA 2K23. While you are here, make sure you check out our other NBA 2K23 guides and tips, like how to get MT 2K23 with U4gm.com.